"Punk stood for DIY culture, which of course now is so current and crucial, and a rejection of racism and sexism, with a little bit of nihilism thrown in."

Professor John Schofield & Professor Paul Graves-Brown
While you might not think to tap into academic minds for cultural insight on what punk might have once stood for, Professors Schofield and Graves-Brown are anything but traditional. The insight stems from a recent conversation we had with the two gentlemen, whose collective archaeological research assisted in the upgrading of the heritage status of the mews house building at No. 6 Denmark Street, thanks to drawings left on the walls by the former Sex Pistols frontman. The caricatures by author John Lydon, aka Johnny Rotten, led to the building being upgraded from Grade II to the prestigious Grade II* listed status by Historic England. This, somewhat rightly, conveniently coincided with Punk's 40th Anniversary.
Earlier this year we spent some time with John Schofield and Paul Graves-Brown to better understand the drawings housed in the one-time home of the Sex Pistols, and their journey from the '70s to present day. "We'd heard about them in an interview on Steve Lamacq's BBC 6 programme back in 2008. We were both listening to the show and contacted each other about making a visit to see them for ourselves."
One can imagine that hearing about this is of course one thing, but actually going to see them is quite another. "We were both struck by the quality of John Lydon's caricatures, and enjoyed finding out who all the people were. This was made much easier because the caricatures were so accurate. We were also struck by how much artwork there was, and its diversity, from the pencil sketch of Jah Wobble to the large words and slogans. Sid and Nancy really stood out, as well as the picture of Malcolm clutching the money."
Over time these drawings have caused some controversy, so we asked the professors why they thought this might have been: "Partly because the Pistols were themselves controversial and partly because some people don't see contemporary material culture as important. We certainly stoked it up a bit by publishing our work in a leading archaeology journal called Antiquity and issuing a press release claiming these artworks were as important as prehistoric cave paintings." One can only imagine that, having some hand in the fanning of those cultural flames, must have somewhere made Mr Lydon smile.
But like every story with folklore and cultural narrative, there's a counter argument that perhaps Lydon's own caricature was in fact not from his own hand due to differing brush strokes and movements. The professors commented: "An art historian who saw one of us give a lecture about this said he thought the Johnny picture was likely by a different hand. But really it's all speculation." This of course only adding to the mythos of these four walls.
Time with one professor, let alone two, is rare - so we couldn't end our conversation without enquiring about their views on how these drawings might be talked about decades from now: "As a monument to popular music history. Punk was a vitally important moment yet, apart from the music and what people have written about it, very little survives, physically. The mews house at No. 6 Denmark Street and the artworks are very rare surviving examples, and are now Grade II* listed because of their significance. Much like cave paintings, these artworks will only become increasingly more significant with the passing of time."
Back then drama, protest and shock value were tactics commonly employed by anarchists and punks with the express intent of shining a light on their perspective and movement. But punk itself was raw and powerful and consistently asked the question of just where the alternative scene fitted into popular culture, a question generations still ask even today. John Lydon's drawings represent the spirit of the moment and very much belong to that specific time. But as Lydon himself might tell you and the professors would concur, whatever you do, don't call them graffiti: "The caricatures are not graffiti, but the room is a palimpsest which includes some examples of what might conventionally be called graffiti. When Johnny said that it was art, he was almost certainly referring to the caricatures and these are really very accomplished."
But today and onwards, they'll be known as "drawings of cultural significance". Chateau Denmark's guests will have the unrivalled privilege of waking up or staying up in some punk history.
If you'd like to get in touch with Professor Schofield and Professor Graves-Brown, you can do so here or here.
Sleep in a piece of history and discover our signature I Am Anarchy Apartment in the mews house where The Sex Pistols lived during the early part of their career. With furniture and designs based on the band's history, slogans and music, you might just feel pretty vacant during your stay.
More journal entries to read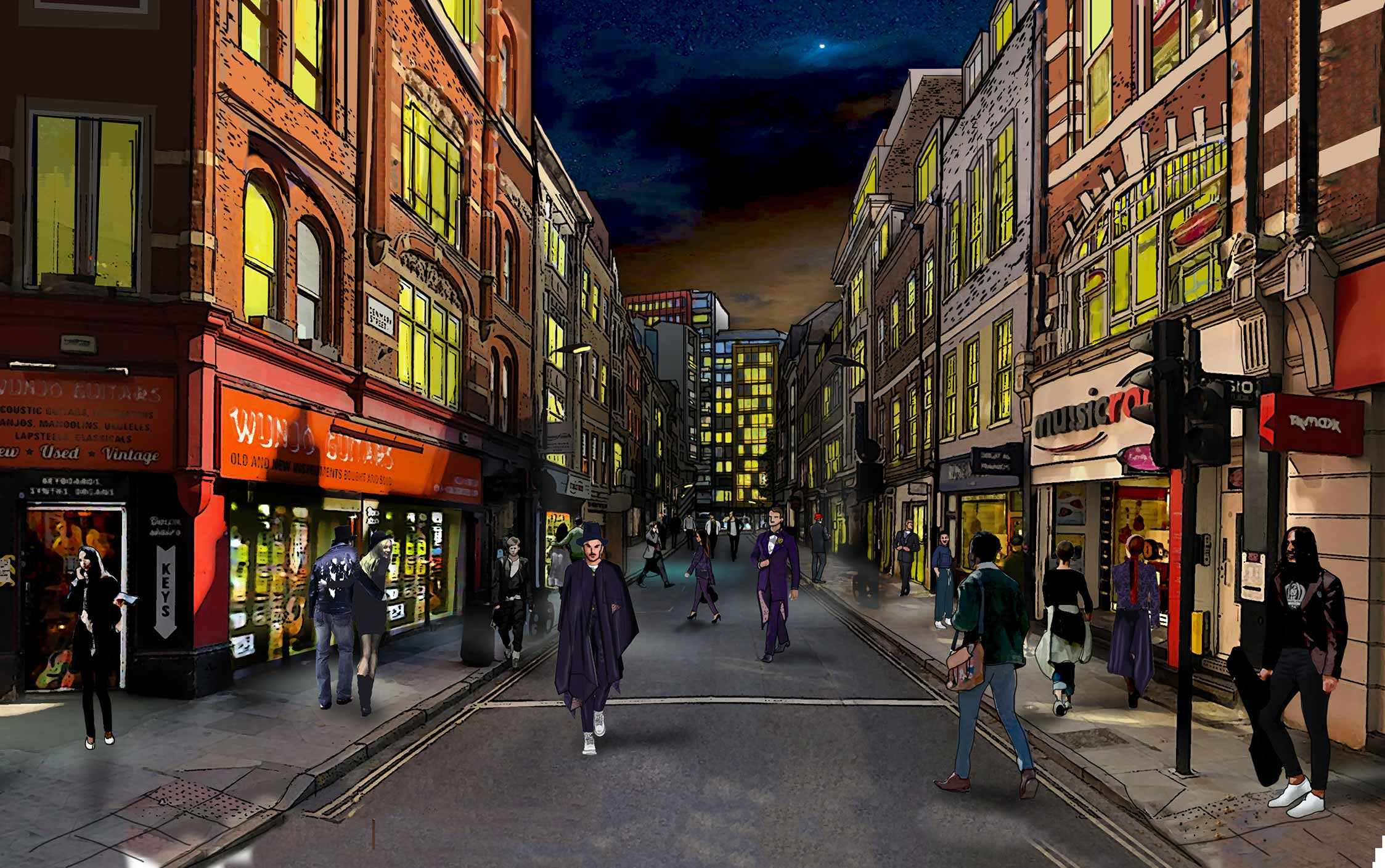 That DNA
Jimi Hendrix called it 'a safe kind of high', likely because in truth music is far more about feeling than anything else. Why we listen to it and just what it makes us feel, plays a role in our collective passion for it – because we all remember where we were when we heard that track for the first time.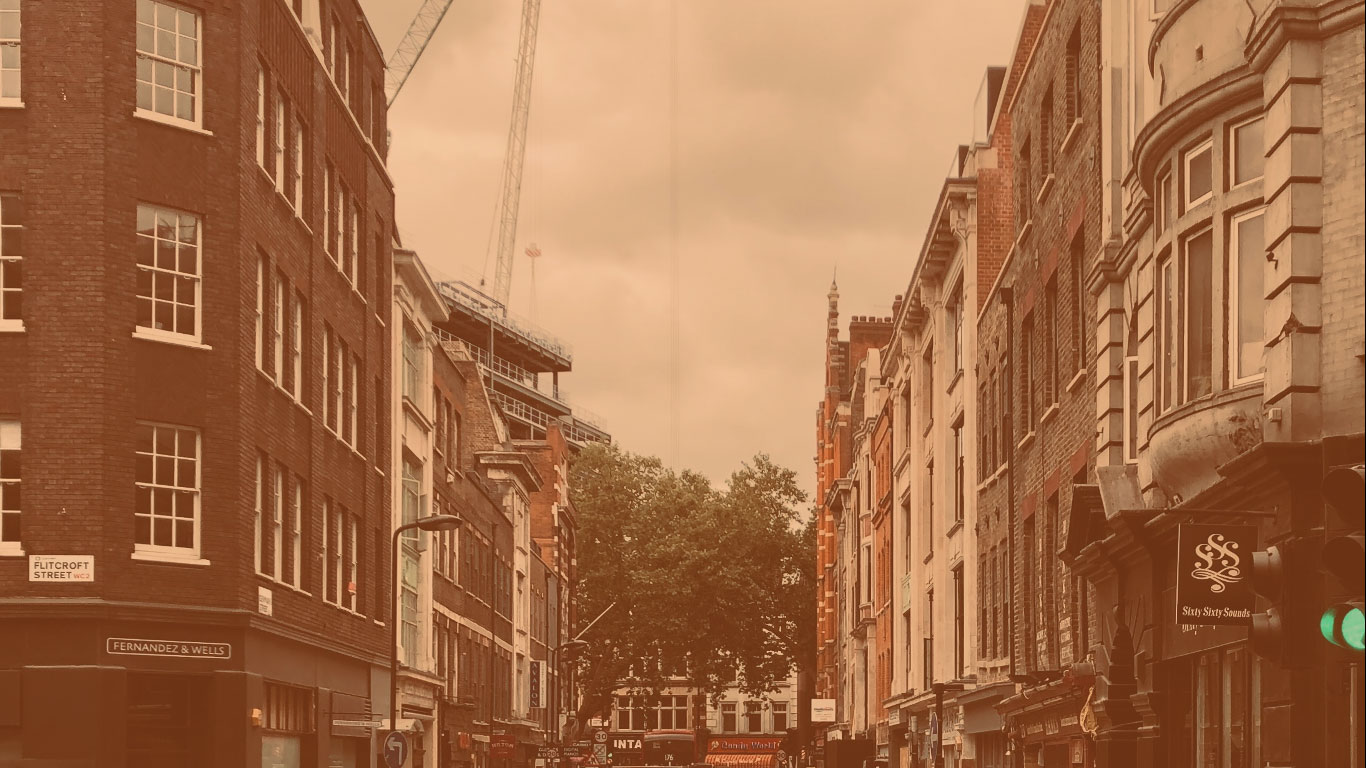 You know the place
Over time, Denmark Street has been defined by the characters that have lived and worked here. In truth the street is much more than a street, it's a story about community, inclusivity and creativity; open in every sense of the word.